SMD

Holding Device

(January 2007)



Surface Mounted Devices (SMD) are more and more common nowadays and many circuits are available only as SMD packages.
One may find difficult to keep these tiny components in place during soldering : until recently I used the classic "tweezers method" to hold the SMD on the Printed Circuit Board (PCB) while soldering it.
In order to simplify the procedure when a large number of SMDs must be soldered on a board, I designed a "holding device" built from components and materials available in my junk box : the result is shown below (

click on the pictures to enlarge

) :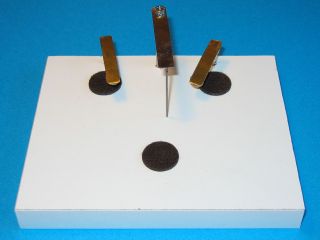 The PCB is kept in position on the lower white plate by the left and right fingers and the SMD is held in place by the pressure of the central tool. The three black circles (small rubber feet glued on the plate) prevent the PCB from sliding when you solder the SMD on it.


1. Building the tool.

1/ The lower plate is a piece of wood or chipboard (15 x 12 cm) in which I drilled three holes, two for the left and right fingers and one for the central SMD holding tool.

2/ The fingers are made of copper strips soldered at the end of banana plugs. The small rubber disks glued to the strip's ends help to keep the PCB in position.

3/ The SMD holding tool
is based on a 5 cm length of an old potentiometer shaft : a strip of flexible steel is fastened to one end of it, and a 4 cm length of steel wire (the "Music wire" used by aeromodellers) is soldered to the other end of this strip.
I gently polished the end of this steel wire with fine-grain sandpaper in order it doesn't mark the SMD when it is pressed on.